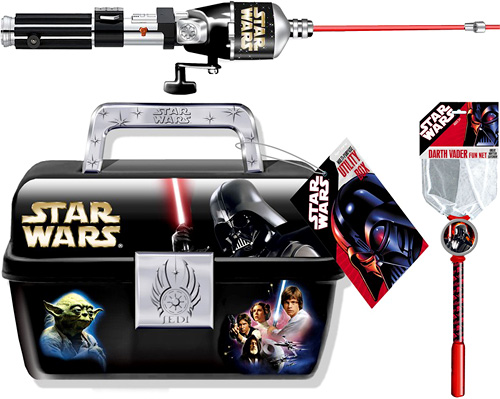 The force works for all kinds of things. Everything from shooting a laser into the Death Star to lifting an X-wing out of a Dagobah swamp. But apparently, it won't help you catch fish. That's what this Star Wars fishing gear is for.
The fishing rod has a lightsaber handle(of course), and you can get a themed tackle box to go along with it. How about a Darth Vader fun net? That's not a very tough product for Vader. One bit of advice, if you catch Jar-Jar, throw him back immediately. That guy is annoying as hell. Clumsy too.

I'm thinking they can have a lure for every character. Hell, why not fish from the comfort of your own Millenium Falcon raft?
fishing, gear, reel, rod, Star Wars, tackle box