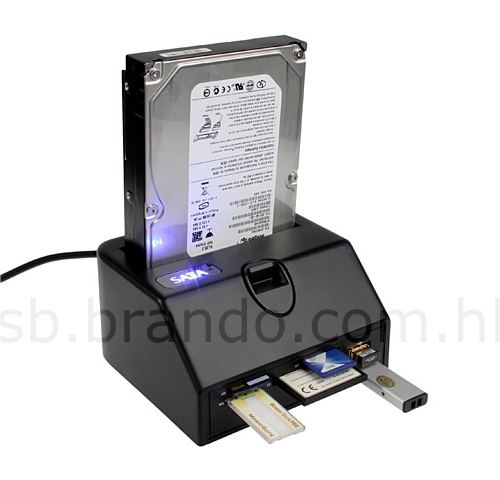 Brando has again upgraded their handy SATA HDD stage rack, this time adding a couple of USB ports and card readers on the front. The computer peripheral, now called the SATA HDD Multi-Function Dock, can connect to your computer through either USB 2.0 or eSATA port and will dock a 2.5″ or 3.5″ SATA hard drive.
The hard drive dock still works with PCs and Macs and continues to provide convenient alternative to cracking open your computer case or using a simple but often messy cable solution. In this model Brando decided to do away with the Firewire they had previously and just stick to the USB and eSATA connections.
They also added in two USB ports to connect up another peripheral or maybe some thumb drives, but it looks like transfers still go through the PC, and can't happen directly from flash drive to hard drive. The new card readers slots added to the front to support SD, SDHC, microSD, MMC, Compact Flash, Memory Stick, xD and a few other variations.
The Multi-function dock is a hefty item and this time Brando has the shipping listed up front for a total of $79 which includes the $25 shipping charge.
hard drive dock, hdd, HDD Dock, HDD Stage Rack, SATA, USB