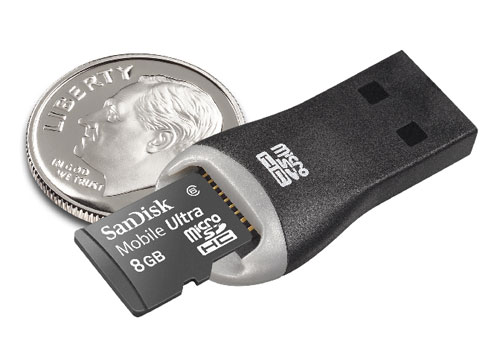 I am not entirely sure that my mobile phone needs "premium" memory cards. I can see the value of having more storage space for music, videos and images but there come s appoint when a bit more speed doesn't really help. And in this case it seems premium just means an included USB adapter.
SanDisk announced a new line of mobile memory cards today that it calls the industry's first premium memory cards. The line is complete and has flavors for many different brands of mobile phones. Available memory cards include Mobile Ultra microSD/SDHC and Ultra M2 cards.
The Ultra line of memory cards ships with a small USB adapter that allows the cards to be plugged directly into a PC USB port for transferring large files and moving data to and from your mobile phone. The cards are available in 2GB, 4GB, and 8GB capacities. The 2GB microSD card sells for $34.99, 4GB is $59.99 and the 8GB is $119.99. The M2 2GB card is $39.99, 4GB is $69.99 and the 8GB is $129.99.
memory card, SanDisk