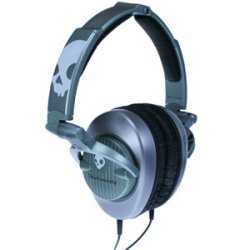 Skullcandy is known for their quality headphones. Skullcandy's Skullcrusher headphones are not new, but I wanted to give them a try and see what all the fuss was about. They don't have any sophisticated active noise canceling features, but still manage to drown out background noise with a nice level of bass rumbling and sheer over-powering volume. And they do it very well.
The folded headset takes up an amazingly small amount of space. They are pleasingly lightweight and portable, perfect for anyone on the go, especially if you use have a backpack. You get a vinyl protective carrying pouch, one AA battery, a 1/4″ plug adapter and a two-prong plug adapter. I really like the fact that with the included adapters, I'm covered no matter what. The cord is about 5 feet long, so you have plenty of freedom.

The "Bass Amplifier Subwoofer" control is built into the cord. Just install a AA battery, and you can turn on the amplifier and adjust the level of bass output with the wheel. As far as the bass, you get amazing vibration. It seems like you can actually feel the drivers.
The comfort is amazing for a headset. And though, it may not look it, the whole thing is very durable. I think the bottom line with these headphones is that you really feel the music. I found myself generally enjoying my music all over again. So far, I haven't tested anything from Skullcandy that has not been top notch and I don't consider myself easily impressed.
audio, Headphones, music, Review, skullcandy, Skullcrusher