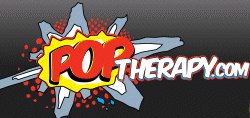 Well, it's Friday. Another week has come and gone. As usual we've covered a fair amount of geek related freakiness at Poptherapy. Below you'll find a small sampling of what we've been up to this week, none of it good for society in general, but an awesome way to waste time.
How about using a large digging machine to undress a pretty woman? Kinda like using a back-hoe to undress a real ho.(I kid…I kid. She was a very nice lady.) What about a half-baked smurf? If it's gaming and apparel you're interested in check out this Classic NES Duck Hunt hat. Just don't be surprised when some other dork puts a light gun to your head.
One of the things we learned this week, is that in Russia, you can have an entire level of Super Mario…On your car.
Tattoos your thing? How about this one of a dolphin lighting up from the comfort of his Lazy-boy.
As usual, we bring you the latest celebrity news and gossip. It's not all about geekery you know. Find out why Dolly Parton is not very happy with Howard Stern.
A man builds a nest on the side of a building? Hell yes. Human's are freaky, you know that. He wants to act and feel like a real bird and everyone is ok with it.
On hump day we looked at a new geek form of Kamasutra.
We found the best chair ever. It makes pretty girls look like they are falling into a huge cup of milk. That right there is pretty darn awesome.
Need help keeping your drawers up? Check out the NES controller belt buckle.
Those are just a few of the items that have been occupying our time, when we were supposed to be doing other things. All in all it's been a great geek week.
funny, geek, Humor, nerd, News, poptherapy, Review, week