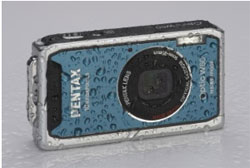 When it comes to cameras typically if you get them wet you will soon be in the market for a new camera. However, there are times when you want to take pictures in and around water like at the beach or the pool. For these times using a normal camera can be ill advised.
Pentax has announced a new waterproof camera called the Optio W60 that has a 10 megapixel sensor and 5x optical zoom with a 28mm wide-angle lens. A digital wide function merges two shots into one for an ultra-wide-image.
The camera is JIS Class 8 waterproof (up to 13 feet deep) and JIS Class 5 dustproof. It can shoot images in temperatures as low as 14 degrees F. The W60 can also record video at 1280 x 720 and has face recognition, smile capture, blink detection and an underwater movie mode. ISO sensitivity is up to ISO 6400. The camera will be available in July for $329.95.
Pentax, underwater camera