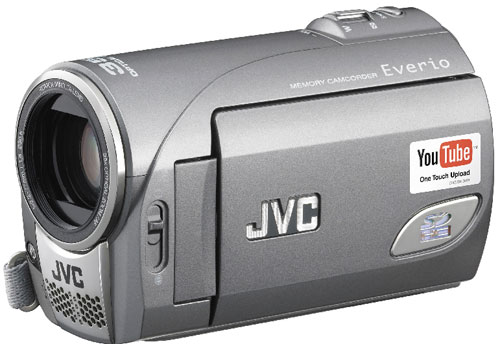 There are lots of people from all walks of life that use YouTube for sharing videos for personal and business needs. The problem for many is that uploading and sizing videos for the service can be a pain and the dedicated YouTube camcorders are often junk.
JVC has announced its latest Everio camcorder called the GZ-MS100 aimed at giving YouTube users a quality camera that is easy to use. JVC says the camera features a UPLOAD buttons that allows users to press the button and then start recording. The camera will limit the recording to 10 minutes automatically to match the file size to the YouTube maximum file size.
Once the recording is done to upload users just connect the camcorder to a PC with a USB cable and hit upload to send the video to YouTube with a few simple mouse clicks. The camera also features a 2.7-inch LCD screen, auto backlight control, and auto power on/off. The camera has 35 x optical zoom and the included battery is good for over 2 hours of recording per charge. The camera will be available in June for $349.99.
camcorder, Everio, JVC