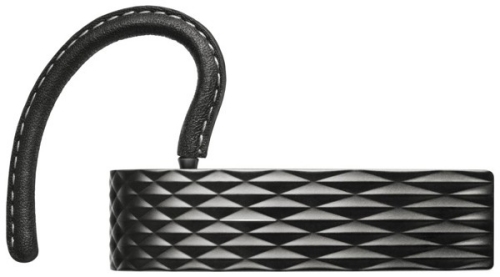 Aliph has just released a sequel to their popular Jawbone headset with a new Jawbone headset which has a slightly new look and improved noise canceling features from the original. The new Jawbone is currently available from the Jawbone website or from AT&T for $129.99 in black only, with more colors to come.
This new Jawbone looks to have a little softer look to it, doing away with the mesh metal grid look and replacing it with a metal diamond pattern. The ear hook also has a softer, stitched cover for a more comfortable look and feel.
Aliph also says they've improved the already-impressive noise canceling sound quality with a military-grade NoiseAssasin technology. Just two buttons on the shield of the headset controls all of its operations. It can charge up to 80% of its battery capacity in about 35 minutes and get fully charged in just under an hour. A full charge brings a little less life than the original Jawbone with 4 hours of talk and 8 days of standby.
The headset is currently only available in what Aliph is calling "Blah Blah Black", but they say they have colors of "Silver Tounge" (silver) and "Goldy Lips" (gold) coming soon.
Aliph, Bluetooth, Headsets, Jawbone, Jawbone headset