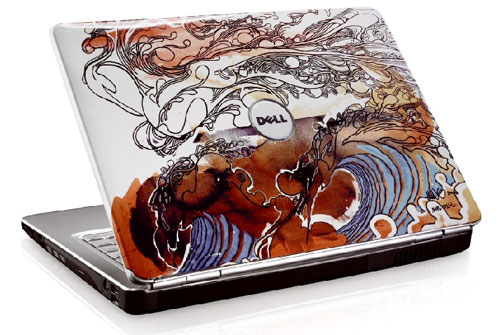 When it comes to notebooks many users want a notebook that does more than simply work well. They want a notebook that works well and looks good doing it. Teens are especially looking for notebooks that have a sense of style and Dell is trying to deliver that style with its new Mike Ming Designs on the Inspiron 1525.
The same features and options for Inspiron 1525 hide underneath the new art on the top of the notebook case. Mike Ming made two designs exclusively for Dell. One is called "Bunch O Surfers" and the other is called "Sea Sky." The surfers design is black line art style and the sky design is what you see pictured here.
The notebooks start at $699 with 3GB of RAM, a 160GB HDD, Intel Pentium Dual Core T2370 CPU, and a 15.4-inch 1280 x 800 resolution LCD. Starting at $799 you get a Intel Core 2 Duo T5550 CPU, 320GB HDD, 3GB of RAM and the same LCD.
Dell, Inspiron 1525