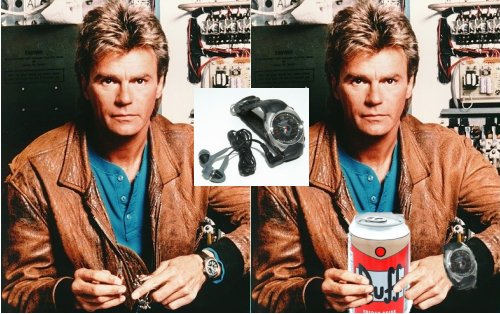 Remember MacGyver? As in Angus MacGyver, the guy who could make a bomb from your grandmothers bra, dental floss and a paper clip? The folks at Skullcandy now have a watch bearing his name. The MacGyver watch features a 5-mode audio equalizer, 3-D stereo sound, built-in voice recorder, integrated USB cable, and thumb drive to store and transfer data.
Through the magic of my crappy Photoshop skills, we can clearly see Mac before and after wearing the watch. In the before pic he's clearly bored while rigging his latest gadget, which obviously involves an alligator clip so he can escape captivity. In the second pic he's wearing the watch. He's still clearly not thrilled with his latest feat of innovation, however his watch is no longer from the 80′s and so he stops to have a beer and contemplate his career, secure in the knowledge that someone finally named a watch after him. MacGyver…Stargate…And a watch. Oh yeah.

It plays MP3 and WAV files, comes with USB 1.1 flash storage, an automatic power-off battery, is even shock proof/static proof, and has a built-in microphone/voice recorder.
MacGyver, MP3, skullcandy, watch