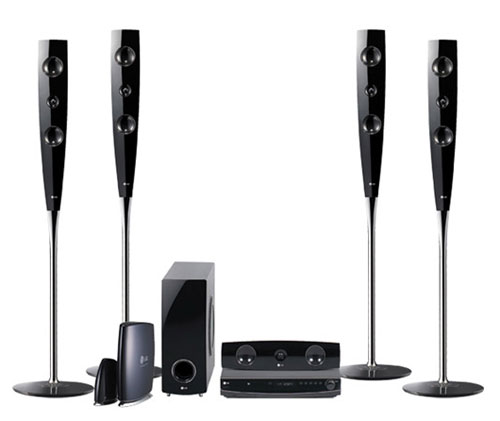 A home theater system with surround sound and a nice big screen TV is high on the priority list of many guys. The catch is that the wife or significant other often doesn't want "ugly" cables running all around the room. LG Electronics introduced a nice home theater system at CES 2008 called the LHT888 that fixed that issue.
LG announced today that the LHT888 is now available for purchase at a MSRP of $649.95. For the money you get a home theater system with all four speakers on stands and wireless rear speakers that eliminate the need to run wires to the back of your room.
Other features of the system include 1080p upscaling via HDMI and USB media plus that allows you to view media from a USB drive on your TV. The DVD player holds one disc and plays CDs as well. The amp features DTS, Dolby Digital 5.1, Dolby Digital 2 channel, XTS Pro and more. The amp also has a built-in AM/FM tuner. In addition to HDMI the system also features optical digital in, composite and component out.
Home Theater, LG Electronics