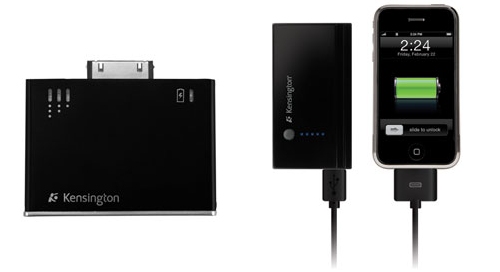 Kensington unveiled a couple of new battery pack/charger combos on Monday for use with Apple's iPhone and iPods. They didn't waste any time thinking up snappy names in this case however as the two new products simply go by "Battery Pack and Charger" and "Mini Battery Pack and Charger". Both work with the iPhone and any current iPod models (except the 3rd generation iPod).
The larger of the two retails for $69.99 and measures not a lot smaller than the iPhone itself at 4.0″L X 0.37″H X 2.2″W, but promises to extend the life of the iPhone for up to 6 hours of talk time, 100 hours of music or 21 hours of video. It charges through a USB connection and can connect to the iPhone or an iPod through the dock port, powering and charging it simultaneously. It also sports a cool looking little LED battery meter.
The Mini Battery Pack and Charger works in a similar fashion but it's just smaller and connects directly to the dock on your iPhone or iPod without a cord. According to Kensington this allows you to leave it connected all the time while your using the device or talking, but of course it's going to extend the length by another 2 3/8 inches, with overall dimensions of 2 3/8″ x 2 1/2″ x 3/8″. The Mini goes for $49.99 and can extend the battery life up to 3 hours of talk, 30 hours of music or 6 hours of video.
Battery Pack and Charger
Mini Battery Pack and Charger
battery packs, Chargers, iPhone Accessories, iPod Accessories