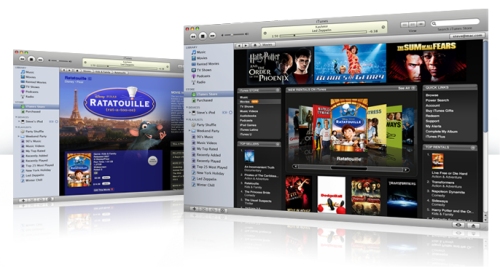 Apple today announced the immediate ability to purchase movies through iTunes the same day that they are released to DVD. This takes away another hurdle that Apple needed to get over to increase the number of online movie rentals through iTunes, and comes only months after the initial launch of the ability to purchase movies at all through the online service.
Apple says they will be providing new releases for sale from 20th Century Fox, The Walt Disney Studios, Warner Bros., Paramount Pictures, Universal Studios Home Entertainment, Sony Pictures Entertainment and Lionsgate, among a couple others. The new release purchases are priced at $14.99 each and can be viewed on a Mac, PC or any iPod with video and require iTunes version 7.6.2 which is available now as a free download.
The iTunes movies are only available in the U.S. and the catalog of over 1,500 non new release films sell for $9.99. New release rentals will go for $3.99 each while the catalog titles are still at $2.99. Some of the new releases that Apple iTunes already has available include "American Gangster", "I Am Legend" and "There Will Be Blood".
Apple, iTunes, movies, online video, streaming video