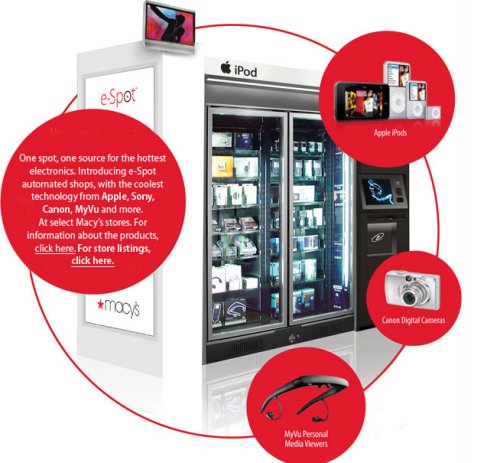 Macy's was paying attention to the success of iPod vending machines at international airports and hotels and decided to add them to about 400 of their own department store locations. The self-serve Zoom Systems will be called e-Spots, and they'll be filled with technology and gadgets, like a giant nerd bubble gum machine.
The e-Spots will offer items priced from $14.99 to $349.99, and they include: iPod Touch, Classic, Nano and Shuffle, Canon 7MP and 8MP digital cameras, Samsung 7MP digital camera and 1GB Camcorder, MyVu Personal Media Viewers
Sony, V-MODA, B & O headphones, Harman Kardon headphones, and Belkin mobile accessories.

They wanted to install them by fall 2006, but it took them awhile to get it together. I'm not really sure how this is going to fly at Macy's. I mean, at airports people have lots of good reasons to buy mp3 players and the like, whether they forgot their gear at home or want something other then airline headphones. But Macy's?
espot, iPod, machines, Macy's, store, vending