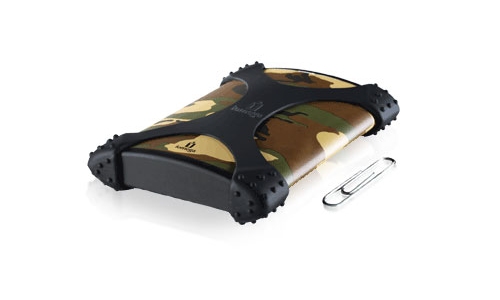 Iomega has released a new drive called the Camo eGo hard drive for those that may want to stand out from the crowd at the office but blend in with the forest. The new eGo portable hard drive is powered solely by USB 2.0 and has a very decent capacity of 250GB inside its camouflaged frame.
The drive is also surrounded with a black "Power Grip" to help keep a hand-hold on it, but if you do end up losing your grip you can hope that the DropGuard technology does all that is says for drops up to 5 feet. The eGo Camo Portable drive is compatible with Windows Vista/XP/2000 and Max OS X.
Iomega has this new woodland stealth drive available online now with a retail price of $250, ready to download mission data from your Big Dog quadruped.
Camo, eGo, hard drive, hdd, Iomega, portable drives, Storage