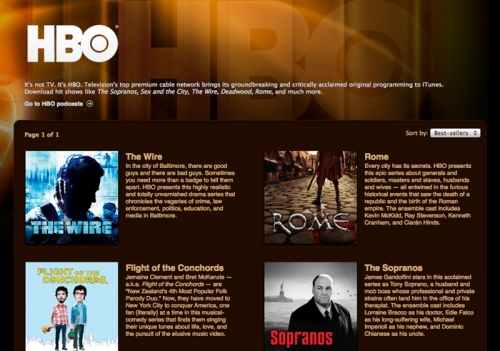 iTunes has officially started offering HBO series episodes available for download online through iTunes. This is a welcome announcement for many who would love to get episodes of the Sopranos, The Wire and Flight of the Conchords onto their PMP's, but it comes at a price.
The price is actually what makes this announcement most interesting. Apple, who seems to have previously been with the belief that all series shows are priced equally, seems to have made a concession with HBO. The series episodes of the Sopranos is priced at $2.99 each, which is a whole dollar more than the usual $1.99 rate for a TV show.
The downsides are that the episodes are not going to be available on iTunes right when the show airs. They are also not going to be available just after the show airs, or even the next day. In fact they aren't going to be available until the episode series is out on DVD. iTunes is offering a little better deal when you buy a whole season which prices it a little better than a physical season box set, but then you have to keep your own physical backup, the quality is probably going to be a little less. This is a move in the right direction but we suggest that they'll have to keep trying to get these online video downloads to catch on like music.
via Gizmodo
Apple, HBO, iTunes, movie downloads