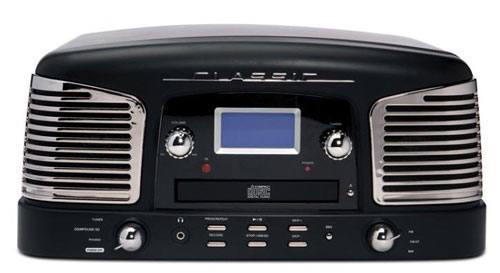 Grace Digital has come out recently with a number of new products to help convert vinyl to digital music, such as the Victoria Classic shown above. These new models – the Victoria Tunewriter, Victoria Classic and AVPUSB01S – price at around $300, $170 and $90, respectively.
All of these devices are designed to let you digitize your old records (LPs) and cassettes. Modes of digitizing include letting you record directly to CDs or digital music files which can be stored directly on an attached USB thumb drive. You can get the full details after the jump.
Victoria Nostalgic Audio Entertainment Centers Archive and Digitize Your Vinyl and Cassettes
Grace Digital launches a new line of audio products that allow consumers to digitize their old records (LP's) and cassettes. We are now shipping 3 different products that allow consumers to burn their Vinyl (33, 45 or 78′s) to CD's, a thumb drive, SD card, or even perform a direct USB transfer to your PC into iTunes or any computer audio applications. Don't buy your old music again, transfer them to digital and relive your memories.
San Diego, California (PRWEB) May 6, 2008 — Grace Digital Inc. a leading manufacturer of audio and telephony consumer electronics, announces the expansion of their line of recordable Grace Digital and Victoria audio entertainment centers.
Grace Digital has introduced two nostalgic entertainment centers under their Victoria brand for the music lover who desires to play and preserve their favorite LP's. The Victoria Tunewriter (ITC-TWCDR) with its built in speakers is wrapped in a beautiful paprika colored 1800′s styled wood cabinet. The cabinet houses a LP (vinyl) player, cassette player, radio and CD player / recorder. Additionally, it includes RCA line out jacks if you prefer to listen to your records via your home stereo. This 4 In 1 entertainment center not only provides for hours of listening pleasure but allows you to record (digitize) your favorite LP's (vinyl) and cassette tapes to a CD to ensure your memories last forever.
For the music buff who would rather store their vinyl LP's to MP3 files directly, the 1950′s style Victoria Classic (ITC-50MP3) is the product for you. This 3 in 1 entertainment center (LP, CD and radio) allows you to download (rip) your favorite LP or CD to a USB or SD card to be saved on your PC or MAC and in iTunes* or your favorite music application.
Rounding out the line is the new Grace Digital LP(vinyl) to computer USB turntable. The AVPUSB01S turntable will connect directly to your PC or Mac via the Included USB cord. Also included is audacity software to edit your new digital audio memories.
The Victoria Tunewriter has a MSRP of $299.99, Victoria Classic at $169.99 and the Grace Digital vinyl direct USB AVPUSB01S sells for $89.99.
digital music, grace digital, records, USB turntables, vinyl