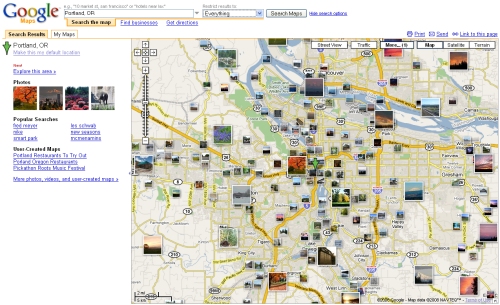 The folks at Google Maps have recently released a pretty cool upgrade to the mapping service incorporating geo-coded photos, entries from Wikipedia and even some real estate listings from local and national real estate companies.
The next time you use Google Maps to look up a location you will notice a 'More' button next to the 'Street View' and 'Traffic' buttons on the map. Click the 'More' and you'll have a couple of options for both photos and Wikipedia. Selecting the Photos check box brings in small geotagged photos from Panoramio right onto the map. Checking the Wikipedia box, just as you would expect, brings up little "W" icons representing geotagged Wikipedia entries. Clicking on the Wikipedia entries then brings up an excerpt of the article and a link.
Selecting the 'More Search Options' next to the Search button reveals a drop down list of result categories, defaulted to 'Everything'. With it you can select Real Estate and view mapped listings from both local and national real estate companies, no doubt cutting into the shares of all those different mapping tools that real estate companies use to help find their listings.
Google consistently adding features like this just makes their tools more useful and certainly more enjoyable to use. I can see myself spending way too much time viewing photos and finding information about places I've been or would like to travel to on Google Maps. I hope they bring these features to the Maps API soon, too!
geotagging, Google, Google Maps, photos