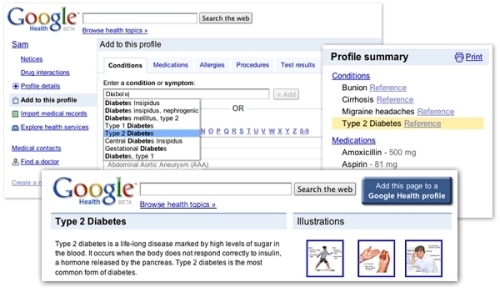 Google seems to always have something new coming out and this week Google Health is taking the spotlight. We had first heard about Google Health last October and until now the service has only been available to a select few.
The new service is now open to the public (in beta, of course) and is being offered as a free service to help store and manage all of your health related information in one central location, accessible from anywhere. The service allows you to log in with your Google account to build an online health profile, import medical records and prescriptions from hospitals and pharmacies, find education health resources, find doctors or hospitals in your area and provides connections with other online health services.
One concern that comes to mind initially for most is the security of the information, and just how much Google already does and will know about you when using their services. Apparently in early trials the service was well accepted and people felt comfortable for the most part with trusting Google with their health information. Another large factor that could make or break the new service is participation of third party health care organizations accepting and working with the company. Places like Walgreens, CVS and Beth Israel have already agreed to partner.
Google just last week also launched some additional features to Google Maps by integrating geotagged photos, Wikipedia information and real estate listings into the popular mapping tool.
GHealth, Google, Google Health, Services