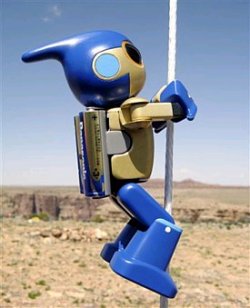 What's the one thing we need more of in the 21st century? If you said that we need more robots performing daring feats, you're in luck. It just so happens that on Saturday, the Panasonic Evolta battery robot, a 17-centimeter tall super-hero looking bot and all around bundle of cuteness, scaled a 500-meter cliff at the Grand Canyon.
It was a publicity stunt of course, to show-off the endurance of the Evolta AA alkaline batteries. The Guinness Book of World Records already recognizes the batteries as the longest-lasting of their kind. The robot, powered by just a pair of Evoltas, pulled itself up 530 meters of rope, finally reaching the top after 6 hours and 45 minutes. I don't know about you, but if you show me a cool robot doing cool stuff I'm gonna buy your batteries.

Is it just me, or does this little guy look like a cross between Ultra-man and a teletubby?
aa, Batteries, battery, climbing, Evolta, Grand Canyon, robot