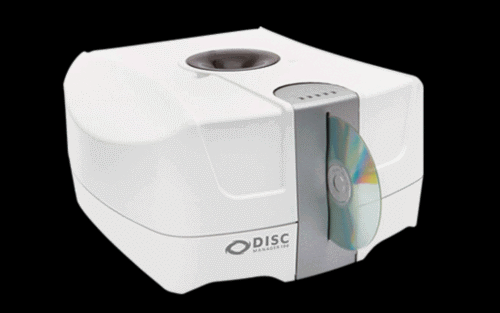 Have you ever wanted to have your adult DVD collection readily at hand but secure in a way that your children can't access said naughty titles? Here's a blurb about the Disc Manager 100, pictured above, which just came into our virtual news desk:
"Are you looking for a safe place to store your adult DVD collection? Disc Makers has you covered with the Disc Manager 100. The Disc Manager 100 allows users to store and password protect certain DVDs owners may prefer to keep private. The Disc Manager 100 and its bundled software makes it easy to locate any file and eject the appropriate disc in seconds. It also protects your CDs, DVDs, and Blu-ray discs from damage caused by improper handling, exposure to dust, and UV light. Users can stack up to five Disc Managers 100s – allowing parents to manage a 500 disc library with just one USB connection."
We can't really write it much better than that. The Disc Manager 100 prices at around $100 – subscriptions to adult DVD services not included.
disc makers, disc management, DVD changers, DVDs