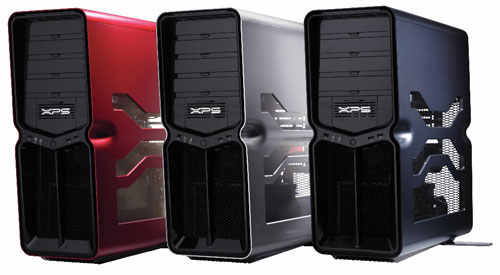 When it comes to PC gaming the hobby is far from cheap. This is one of the main points console gamers like to harp on when lauding the supposed superiority of consoles over PCs for gaming. However, PC gamers can all agree that with the right PC, graphics on the same game are typically much better on PC than on a console.
Dell announced its latest XPS gaming desktop today and we can just get this out of the way up front, it's not cheap. Base models start at $3,999 and if you want the slick and high tech liquid ceramic cooling you are looking at a starting price of $4,999. For that amount of money you get some nice components.
Both the air cooled and ceramic cooled versions get the same NVIDIA 790i Ultra mainboard and have options of factory-overclocked Intel Core 2 Extreme processors. Both versions also use Corsair Dominator DDR3 RAM. Graphics options are ATI Radeon HD 3870 X2 in four-way CrossFireX or NVIDIA 8800 GT in SLI. The machines can also have up to four hard drives. The part I don't get is why Dell offers the top of the line ATI graphics cards and then doesn't make the NVIDIA 9800 GX2 available in single or quad SLI.
Dell, pc, XPS