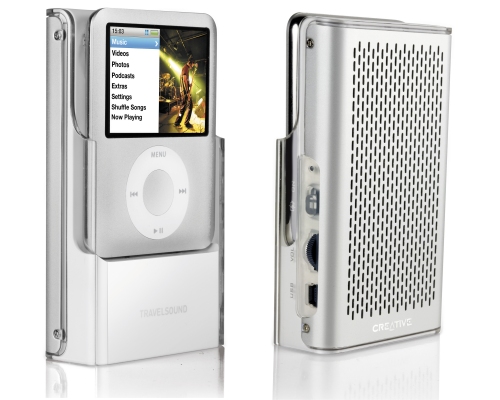 Creative has launched a new addition to it's line of portable speakers with the TravelSound for the iPod nano. This one-piece speaker attaches to the docking port of Apple's nano and pumps out the sound to share with others. This new TravelSound speaker appears very similar to the TravelSound i50 that we saw last fall for the iPod nano, and the design is no doubt inspired by it.
The new TravelSound portable speaker is relatively small and lets the 3rd generation nano fit right into the design giving it an overall thickness of less than an inch with 3.9 inches in total height. It also comes with a little plastic stand, and if you can keep from losing it since it's not attached, will provide a safer rest for the speaker with your iPod in it.
Some additional conveniences include the ability to charge both the speaker and the nano through a single USB connection. A full charge gives the speaker 15 hours of play time on the go. The single USB connection will also allow the iPod to sync with iTunes when connected to your computer. Creative also includes a USB wall charger to charge both devices when you're away. The whole package is available now for $79.99 from Creative or you can pick one up from Amazon.com and save $5.
Creative TravelSound for iPod Nano
Creative, ipod speakers, portable speakers, Speakers, Travelsound