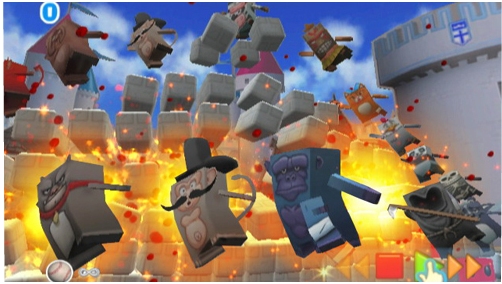 This week EA announced the release of Boom Blox for the Nintendo Wii, the first game created by the company in partnership with Steven Spielberg. The game takes players through a destructive path of blowing their way through puzzling challenges in 5 different "worlds" as a single player, co-op or multi-player modes for up to 4 players at a time.
The game features more than two dozen "blocky" characters, each with their own personality and of course with Steve Spielberg involved there ended up being a lot of "explosive action" throughout the game. Through funny gestures by the characters and using some potentially destructive tools in the game such as bowling balls and fire hoses players can bust their way through the challenges.
Some of the more interesting parts of the game is the additional interaction they built in. Kids can not only play the existing levels of the game, but with a simple game editor they can create their own levels or edit the existing levels to be more to their liking. Once finished with their Boom Blox level masterpiece, the levels can be shared with others through Nintendo's WiiConnect24.
Boom Blox is available in the U.S. and Europe now, and EA plans to roll it out to Asia next week on May 13 and to Japan the following week on May 22. Amazon has the game available, retailing for just under $50.
Boom Blox, EA, Games, Nintendo, Steven Spielberg, Wii