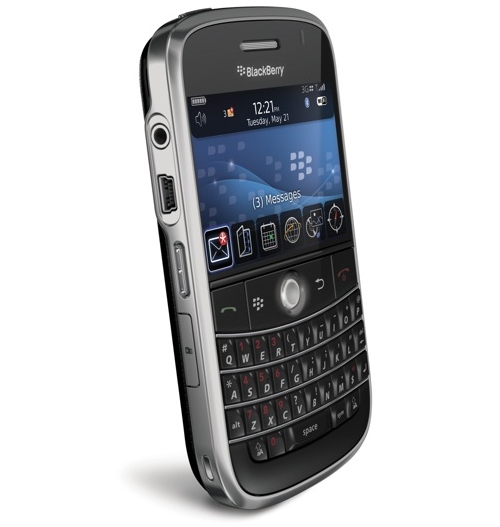 Here it is. RIM has finally taken the wraps off the Blackberry 9000 we've been hearing rumors about and officially launched the Blackberry Bold. Reportedly the latest smartphone from Research In Motion gets the "Bold" name from the exceptionally crisp and bright display that comes with it.
That display comes as a 480×320 pixel, 65,000 color VGA screen that according to Crave is better than anything else they have ever seen. The other most notable feature is the wireless connection options available on this guy. It's a GSM 850/900/1800/1900 phone and has HSDPA/UMTS (850/1900/2100) support which has never before been available on a Blackberry, and apparently they've done it right without sacrificing battery life in the process. Let's also not forget that the Blackberry Bold is also connected via Wi-Fi (a/b/g), Bluetooth 2.0 and GPS.
The insides come packed with a a 624MHz Intel PXA270 processor, 128MB Flash memory, 1GB of onboard storage and can be expanded with microSD cards up to 16GB. It's also equipped with a 2MP camera with 5x zoom and video recording and decent built-in speakers. Surfing the web has even been upgraded in this new Blackberry with a new web browser that supports both mobile and regular desktop views of web pages.
Now that we've gotten you all worked up about the device we need to let you know that if you want to run out and pick up a new Bold, you're going to unfortunately have to wait a little longer. Yes, I know that stinks but RIM is expected to have the Blackberry Bold out sometime yet this summer, and with the 3G capabilities it will most likely hit the U.S. with AT&T, priced at around $300-$400.
9000, BlackBerry, Blackberry Bold, Bold, RIM, smartphones