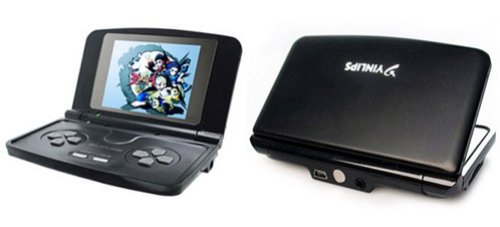 The Yinlips YDP-G68 is yet another unfortunately named device. It's also an MP4 player that comes with a 2.8 inch TFT screen, 4GB storage, supports SD/MMC card, 1.3-megapixel camera, FM radio, AV-OUT, AV-IN and supports a memory card (up to 2GB).
This device also supports 8-32bit NES format games(The downloadable variety of course) and it plays MP3, WMA, AMR, ACC, WAV, ASF, 3GP, MPEG-4 and EXIF2.1 formats. The Yinlips is no Nintendo DS, despite their foldable design, but if you're in a what the hell kind of frame of mind, it's available now for $96.55.

As far as looks go where handheld gaming PMP devices are concerned, it's not bad. But it just like the specs, it's not blowing us away either.
[Ipmart] VIA [2dayblog]
gaming, MP3, MP4, mp5, Nintendo, pmp, YDP-G68, Yinlips