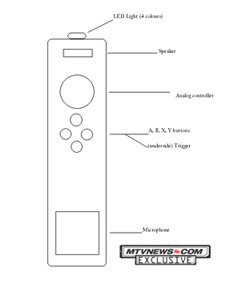 Look who's getting into the Wii action. Microsoft's been working on a Wiimote type controller and it's due to come out later this year. They actually began development way back in Summer '07. But the process has had it's share of problems. According to MTV news and their exclusive source, this is what it looks like.
The familiar looking Wiimote has a speaker, microphone, four LED lights, A/B/X/Y face buttons, an analog stick and an underside trigger. The Nintendo Wiimote doesn't have a Microphone and has a D-pad instead of an analog stick. Rare is the company working on it and they reportedly are trying to come up with a "unified interface and look for the controller." The problems are between marketers and designers. The marketers basically want a replica of Nintendo's Wiimote so game developers will want to port Wii games onto the 360. The designers want it more feature-rich and they have an interesting description "Halo, Gears and Forza in waggle form."

Microsoft is even working on their own version of Miis which can be ported onto any game using the controller. There will likely be some delays given the problems they're having. More Wii is always a good thing, but they need to strive to be different, otherwise all you are going to have is a Next-Gen Wii console.
accessory, Nintendo, Wiimote, xbox 360