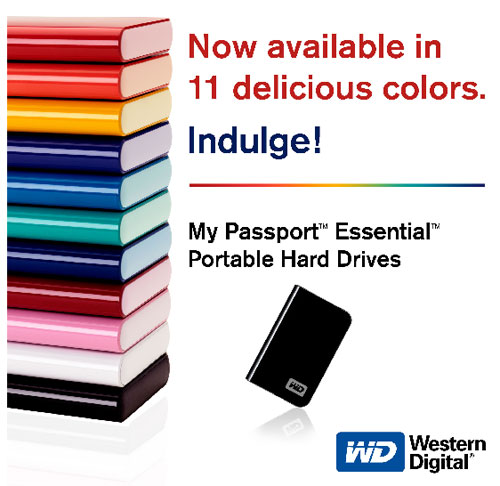 I'm a more traditional geek and tend to not want any bright colors in my external storage products. I guess there are enough people out there that feel differently and Western Digital has felt the need to glam up the common USB drive with bright and often girly colors.
Western Digital announced today that it was now offering its popular My Passport drive in 11 different colors. The available colors include black, brilliant orange, super sunny yellow, raindrop blue, arctic white, deep viola, cherry red, ultra mint, real red, intense blue, and vibrant pink. The white drive might be just the thing for Mac heads, at least until the new MacBook's hit with the aluminum skin.
Other than the color options nothing has really changed with the USB drives. You can get the drive in capacities of 160GB, 250GB and 320GB. Pricing for the drives is $119.99, $149.99, and $179.99 respectively. The drives ship with WD Sync as well for syncing data and providing encryption to protect data in the event of a lost drive.
external storage, Western Digital