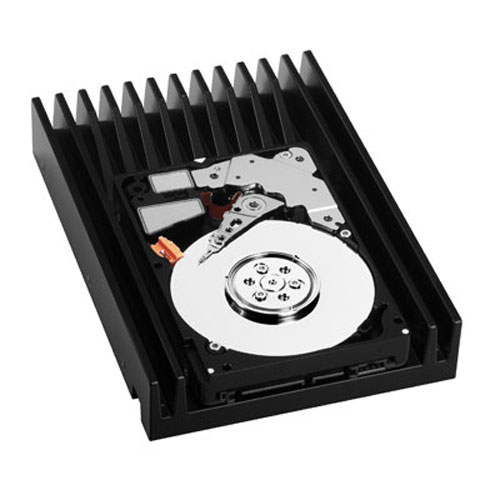 Western Digital (WD) unveiled today what it is calling the world's fastest SATA hard drive. It is known as the WD VelociRaptor and you can expect it to cost you around $300 when it hits retail.
The WD VelociRaptor hard drive is a 2.5-inch, 300 GB model which WD says is 35 percent faster then the previous fastest model. Technical features of this upgrade from the WD Raptor include 10,000 RPM, SATA 3 GB/s interface and a 16 MB cache.
WD has mounted this hard drive in what it calls the IcePack – a 3.5-inch "enterprise class" mounting frame with a built-in heat sink which makes the drive be able to fit a standard 3.5-inch drive bay. It also is capable of parking the recording heads off the disk surface during spin up, spin down and when the drive is off. Availability is said to be mid-May. It will be available sooner though on Alienware's high-performance ALX gaming desktop, with two of these drives in a RAID 0 configuration.
Hard Drives, hdd, SATA, Velociraptor, WD, Western Digital