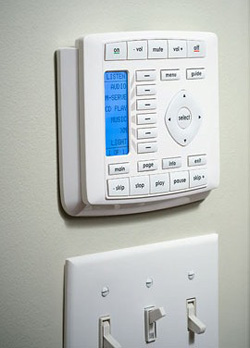 Universal Remote Control has apparently put out new details and pricing about an upcoming wireless keypad-style remote. It is called the KP-900 and you'll find it pricing around $500.
The KP-900 is attached to a wall bracket so you can easily find it. It is powered by four AAA batteries, according to Universal Remote Control, and functions in both the IR and RF control arenas. The LCD is backlit as well.
Universal says this remote will control all of your audio and video equipment at home. It is iPod compatible, though it isn't exactly clear the significant of that at first glance. Buttons on the panel are labeled based upon what macros you want the remote to learn and it can be programmed via Windows-based software. No specific word on availability.
Universal Remote Control KP-900 [via CE Pro]
remote controls, Remotes, universal remote control