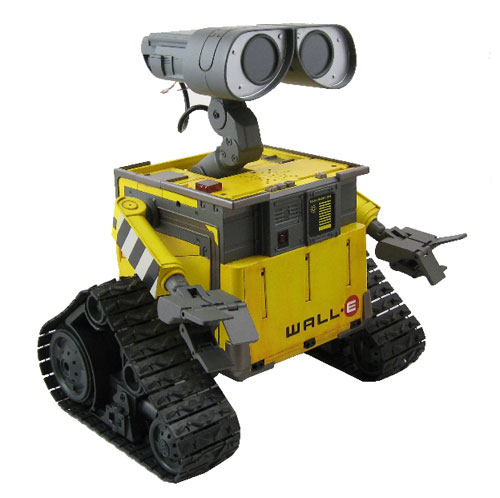 There are a few things that most of geekdom has in common, one is an insatiable lust for all things gadget and the other is an undeniable need to own anything robotic even when the robots gizmos are meant for kids. The latter affliction is easier (and less embarrassing) to indulge in if you have kids, which thankfully I do.
Not too long ago I spent some "testing" time with the UGOBE Pleo robot dinosaur and it was cool but I thought it would be cooler if a robot actually looked like a robot. Disney agreed and has announced a new Pleo-esq robot based on the WALL-E movie hitting the silver screen this summer. The toy is called Ultimate WALL-E and it will go on sale this fall for $189.99.
Ultimate WALL-E has 10 motors to provide a high level of movement and a touch programming system to make it easy for kids (and geeks) to program movements. The robot also has a voice activation mode and a follow-me mode as well. Like the Pleo, Ultimate WALL-E has numerous sensors including infrared sensors to help avoid objects in the room, touch sensors and sonic ears that allow him to detect sound. Ultimate WALL-E even includes built-in speakers and is MP3 compatible.
Disney, robot