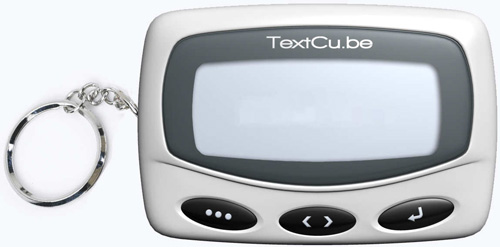 How attached are you to the messages you get from social networking sites? Enough so you would pony up around $100 for a dedicated wireless text messaging device? The developers of the new TextCu.be hope so, as they plan to launch such a product this July.
The TextCu.be is primarily designed to work with a dedicated social network tied to the device's launch. There will be no monthly fees associated with the service and it is said full management and privacy controls will be provided. You'll also be able to integrate into your other social networking profiles a TextCu.be widget which lets you receive similar messages from friends.
One can apparently set a multitude of alerts and reminders with this device in addition to receiving full text messages. It runs off of a AAA battery for about six months and reportedly will easily fit on your keychain. So, if you want to stay connected (at least one-way) almost anywhere and don't mind lugging around yet another piece of tech, this one might be worth checking out.
pager, social networking, Text Messaging, textcu.be