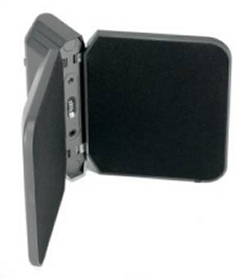 Targus has introduced something new for the portable speaker market called the Speaker Book. Creating a good set of portable, battery-operated speakers seems to be quite a challenge, and although we're not sure how it sounds quite yet this one at least looks like a pretty cool solution.
The Speaker Book, like the Targus SonicPak backpack, uses the super-thin NXT Balance Radiator speaker technology and pumps out the tunes from your portable player through a standard 3.5mm jack. Also it can be powered by either three AAA batteries or from a USB connection if you want to run it from something like your notebook computer.
The only downside is that folks in the U.S. might not be able to get their hands on one for a while. Targus has the Speaker Book scheduled to launch in the U.K. only sometime in early summer of 2008.
via I4U
portable speakers, speaker book, Speakers, Targus