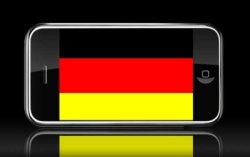 In anticipation of a new iPhone model coming to Germany, T-Mobile has drastically slashed the price of the existing 8GB model from €399 to just €99 for German customers. This lower price equates to approximately $155 USD, where the 8GB iPhone is currently going for $399 with a 2 year contract in the United States.
The €99 iPhone is being offered for a limited time from April 7 through June 30 and comes with a 2 year plan for 89 euros a month. The 16GB model price appears to remain untouched with a price of €499. Apple has been rumored to have a new, faster 3G version of the iPhone in the works and this promotion may be a way to unload some of the older models prior to the launch. Alternatively it could also just be a promotion for Apple and T-Mobile to unload some of their inventory due to poor sales of the iPhone in the area due to the heavy competition of mobile handsets that are 3G enabled.
T-Mobile is the exclusive carrier of the iPhone in Germany which launched in November of 2007 lacking the 3G data connection which was already prevalent in Germany for mobile devices to provide high speed data access. Since then a 3G version of the iPhone has been speculated and could be available yet this quarter.
Apple iPhone, Deutsche Telekom, Germany, iPhone, T-Mobile