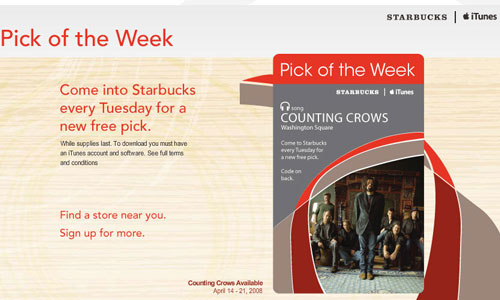 Starbucks and Apple's iTunes continue to expand the relationship which shows synergy between latte drinking customers and the iPods they love. The latest incarnation is the announcement of a weekly free music download which will be made available to Starbucks in-store customers.
This new promotion, dubbed Pick of the Week, debuted today with a song from the band Counting Crows. Customers who are in-store on a Tuesday will be offered for free a card with the latest song information as well as a code to download that tune from  iTunes. A music video looks to also be available, though its not clear if that will be a weekly choice as well. Whatever the download, customers will have 60 days from the week the card is distributed to cash in their code for the download.
Starbucks and iTunes originally did a similar program in October 2007, focused more on a daily download pick. This program resulted in over six million songs downloaded. Another aspect of the Starbucks/iTunes relationship is the iTunes Wi-Fi Music Store, launched at select Starbucks at the same time last year. This program is on its way to a national roll out.
iTunes, starbucks