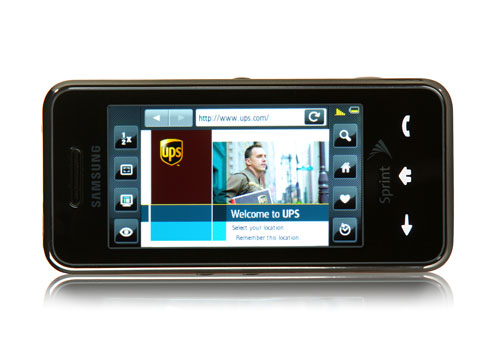 Samsung announced today a bitching new touchscreen mobile which may very well get us to switch over to its exclusive wireless carrier Sprint. It's called the Samsung Instinct and, sorry, there is no pricing as of yet.
The Samsung Instinct sports "localized tactile feedback, called haptics, which allow the virtual QWERTY keypad and other operations to become a sensory experience." Sweet. It is also Sprint's first EV-DO Rev A consumer focused mobile, meaning you can expect quicker load times for things like browsing the Web and streaming audio.
Other features of the Samsung Instinct include three dedicated keys for phone, back and home, GPS functionality, expandable MicroSD memory, a 2.0-megapixel camera with video recording and Bluetooth. All of this will be available when the Instinct comes around in June.
cell phones, Mobile Phones, Samsung, Sprint