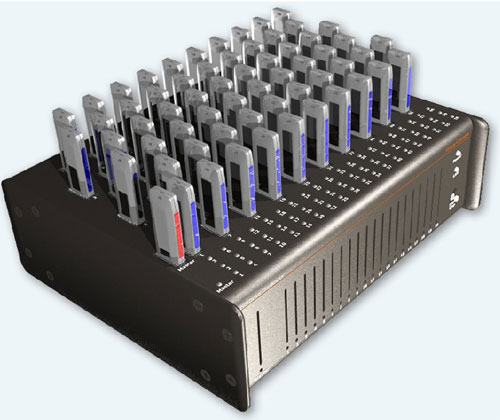 So you have spent your precious free time making digital copies of all your various Metallica records and CDs and you want to share them with 60 of your closest friends on a flash drive. Virtual console has a new USB drive duplicator that makes producing 60 copies of your drive fast.
The Virtual Console USB duplicator is the fastest on the market and claims to be able to duplicate 60 1GB flash drives in a bit more than two minutes. If you have more than 60 friends that you want to share with units feature IP Multicast duplication to allow for control of multiple duplicators.
The duplicator has a Smart Duplication feature that only copies files rather than simply making a binary copy of the source flash drive. One of the nicer features should Lars and RIAA come looking for you is that the Virtual Console can encrypt the data written to the source drives on the fly with 128-bit AES encryption and provide individual keys for each drive.
USB duplicator