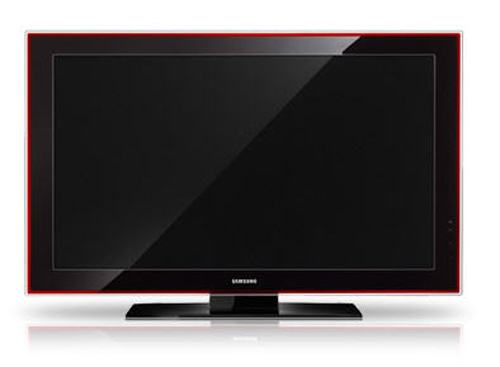 Samsung today put word out through the lands of tech about the availability of its Series 6 and Series 7 LCD HDTVs. These displays range in size from 19- to 52-inches and pricing from around $480 to $3,500.
The Series 6 displays should mostly be available now, with the Series 7 units come out in May. Samsung's most touted design features with these displays is its "Touch of Color" which draws from "several artistic inspirations" and features "a hint of red color naturally blended into a semi-transparent piano black bezel." Excuse us while we go wipe the marketing barf off of ourselves – you can read the rest of the Samsung love fest after the jump.
Samsung Turns "TV into Art" with the Availability of New "Touch of Color" Designed LCD HDTVs
EnergyStar®-rated Series 6 650 and Series 7 750 LCD HDTVs Combine Environmental Awareness and Sleek Design
RIDGEFIELD PARK, N.J.–(BUSINESS WIRE)–Samsung Electronics, the market leader in HDTV design and innovation, presents the ultimate form of "functional art" to consumers with the Series 6 650 and Series 7 750 LCD HDTVs featuring Samsung's ToC™ (Touch of Color) design. Born from several artistic inspirations, from the craftsmanship behind delicately blown glass to the balanced beauty of a sunset, the ToC design features a hint of red color naturally blended into a semi-transparent piano black bezel, allowing the HDTV to harmonize with any décor. In addition to boasting an industry-first design the Series 6 and 7 LCD HDTVs deliver a superior 1080p picture with up to a 50,000:1 dynamic contrast ratio, featuring crisp detail and vibrant colors supported by Samsung's Auto Motion Plus 120Hz™ and Ultra Clear Panel™ technologies.
Beyond improving picture quality, the Series 6 and Series 7 LCD HDTVs also give consumers the latest in sophisticated networking with Samsung's InfoLink™ RSS service powered by USA Today, as well as access to the user's digital media via USB 2.0 with WiseLink. While embodying the art of performance, the Series 6 and Series 7 LCDs are also environmentally-friendly, proudly recognized by the EPA as EnergyStar® rated.
"We feel that the Series 6 and 7 LCD HDTVs reflect Samsung's emphasis on continually innovating the design of our LCD lines as well as the performance," said Jonas Tanenbaum, vice president of LCD Television Marketing at Samsung Electronics America. "By bringing a 'Touch of Color' to the LCD HDTV market with our unique ToC manufacturing process, Samsung continues to find ways to blur the boundary between TV and art. And while we will always seek new ways to push the design envelope, Samsung's continuing focus is on offering the best possible picture and viewing experience for consumers."
Series 6 650 Full HD LCD TV
Touch of Color™
Reflecting Samsung's design policy of aggressive innovation, the ToC design featured in the Series 6 650 LCD breaks free from the mold of conventional black, box-like bezels seen across the industry. Samsung is the first manufacturer in the HDTV industry to employ dual-injection technology commonly used in the design of premium automobiles, which embeds color not with paint or dye, but instead with material. By controlling the density of the transparent and opaque material used in the process, the resulting bezel mimics a natural sunset with distinct red and black gradation. Nature's inspiration on the ToC bezel is also apparent in the effect that ambient light levels have on the red hue's brightness, offering an ambience that is reminiscent of viewing a piece of art. The idea of ToC ultimately stems from Samsung's desire to give consumers a well-designed HDTV that fits into any home not only as an entertainment hub, but as a piece of functional art.
InfoLink™
Expanding the possibilities of the HDTV as an entertainment hub in the home, the Series 6 650 LCD features the single-button, on-demand InfoLink™ RSS service. Powered by content from USA Today, InfoLink instantly displays user-customizable news, sports, weather, stocks and entertainment information onscreen via adjustable overlays. As the ultimate form of luxury and convenience for the always-connected consumer, InfoLink allows users to view their choice of personalized, real-time information with the push of a button, without interrupting what else is being shown onscreen or changing the channel.
WiseLink™
Simply by using the USB 2.0 interface on the Series 6 650 LCD, WiseLink™ allows consumers to instantly access and sort through MP3 music and JPEG photos stored on a memory stick or on digital devices including camcorders and portable media players. With WiseLink, users can share and enjoy their favorite music and pictures directly on the Series 6 650 LCD, for a "big screen" experience as opposed to huddling around a computer.
Ultra Clear Panel™ and Wide Color Enhancer 2™
Taking picture clarity and crispness to a new level, Samsung's Ultra Clear Panel™ is designed to improve contrast ratios and produce deep black levels. Able to perform in any lighting condition with its combination of high and low reflection layers, the Ultra Clear Panel™ and high performance of the screen ensure that pictures are always deep and detailed.
To keep the colors perfected by nature vibrant and pure onscreen, Samsung's Wide Color Enhancer 2™ technology gets the most out of the expanded color range used in HDTV broadcasting. By strengthening the reds, greens, and blues, depth and intensity are added to images that may appear weak on another display, allowing consumers to appreciate the look originally intended by the show's producer, movie's director, or game's developer.
Auto Motion Plus 120Hz™
Reducing motion judder and image blurring that can occur when watching movies and fast-action sports, Samsung's Auto Motion Plus 120Hz™ technology featured in the Series 6 650 LCD, estimates and inserts an extra frame between frames to create a smoother viewing experience. The extra frame makes images flow seamlessly, allowing even the fastest action scenes to be presented with precision and clarity.
EnergyStar® Rated
Aligned with Samsung's efforts to combine technological advancement with environmental awareness, Samsung's Series 6 650 LCDs feature a unique "EnergySaving Mode" that ensures the HDTV is compliant with the EPA's EnergyStar® rating system. By adjusting the HDTV's backlight brightness with a Low, Medium or High selection, power consumption is decreased up to 70 percent compared to similar 2007 models.
Because of the unique "Touch of Color" manufacturing process that uses dual-injection technology to infuse a hint of red color into the TV's bezel without the use of paint spray, no VOC's (Volatile Organic Compounds) are emitted when producing the Series 6 650 LCD. This process results in a reduction of CO2 emissions during production. Additionally, by utilizing new engineering techniques, Samsung is able to reduce the overall material weight of the Series 6 650 by ten percent versus similar Samsung 2007 models, reducing the amount of materials needed in production and the recycling of the HDTV years after purchase.
The Series 6 Full HD LCD TVs first shipped in March of 2008 in the following sizes: 19.0-inches, 22.0-inches, 31.5-inches, 39.9-inches, 45.9-inches and 52.2-inches (Model numbers: LN19A650, LN22A650, LN32A650, LN40A650, LN46A650, LN46A650 and LN52A650).
Series 7 750 Full HD LCD TV
In addition to the innovative 'Touch of Color' design, InfoLink RSS feature and overall superior picture quality found in the Series 6 650, Samsung's Series 7 750 features internal flash memory loaded with premium content to enjoy right out of the box, including high resolution artwork, cooking recipes, exercise routines, children's programming, and games. With the Series 7 750 LCD, Samsung offers the ultimate interactive HDTV that can be a central part of any home and used by any member of the family.
The Series 7 750 LCD also includes enhanced networking and multimedia management with Wiselink Pro™. With the ability to play MPEG4 and DiVX video files as well as MP3 music and JPEG photos, consumers can access content from external devices by connecting to the side-mount USB 2.0 port. With Wiselink Pro the Series 7 750 becomes an ideal entertainment hub for consumers who utilize online movie-downloading services and seek to enjoy the widescreen viewing experience unavailable on the traditional PC. Additionally, the Series 7 750 LCD is DLNA (Digital Living Network Alliance) compliant allowing consumers to easily share content with other DLNA certified products.
Continuing in Samsung's commitment to provide a higher level of convenience to consumers of the Series 7 750 LCD, the Wheel-Key Remote that comes with the HDTV is enabled with a touch-sensitive feature that immediately illuminates the remote when picked up. Providing a small, but significant convenience, this touch-sensitive remote is ideal for navigating your HDTV and home theater when viewing a movie in a dark setting.
The Series 7 750 LCD HDTVs will be available in May of 2008 in the following sizes: 39.9-inches, 45.9-inches and 52.0-inches (Model numbers LN40A750, LN46A750 and LN52A750).
Wireless LinkStick Accessory
For added convenience, the Samsung Wireless LinkStick allows consumers to access the InfoLink RSS feature on their Series 7 750 or Series 6 650 LCD HDTV wirelessly. While a connection to the Internet via an appropriate modem or router is still required, consumers will no longer need to run an Ethernet cable directly to their HDTV. For customers who purchase a Series 6 650 LCD prior to May 2008, a firmware update will be available for download to enable compatibility with the accessory. The Wireless LinkStick (WIS-08BGX/XAA) is available now at an estimated selling price of $34.99.
Specifications
Series 6 LCD HDTV
Series 7 LCD HDTV
Screen Sizes
19.0-inch / 22.0-inch / 31.5-inch /
39.9-inch / 45.9-inch/ 52.2-inch
39.9-inch / 45.9-inch / 52.0-inch
Resolution
720p (LN19A650, LN22A650)

1080p (all other sizes)

1080p (all sizes)
Features

Unique

'

Touch of Color

'

bezel design with black rose accents
InfoLink

™

RSS for one-touch, on-demand, onscreen access to the latest news, weather, sports, stocks and entertainment info (40

"

and above)
Auto Motion Plus 120Hz (40

"

and above)
UltraClear

™

panel (32

"

and above)
WiseLink (USB 2.0), with MP3, and JPEG file readers
DNIe Pro (Digital Natural Imaging engine) technology
Sports / Cinema / Game modes for enhanced video and sound processing (32

"

and above)
Built-in NTSC / ATSC / Clear QAM tuners
Energy Star

®

compliant

Unique

'

Touch of Color

'

bezel design with black rose accents
InfoLink

™

RSS for one-touch, on-demand, onscreen access to the latest news, weather, sports, stocks and entertainment info
Internal flash memory with pre-loaded content
Auto Motion Plus 120Hz
UltraClear

™

panel
DNIe Pro (Digital Natural Imaging engine) technology
WiseLink Pro (USB 2.0), with MPEG 4, DiVX, MP3, and JPEG file readers
DLNA compatible
Sports / Cinema / Game modes for enhanced video and sound processing
Built-in NTSC / ATSC / Clear QAM tuners
Energy Star

®

compliant

Contrast Ratio / Response Time

3,000:1 dynamic / 8ms
(LN19A650, LN22A650)
15,000:1 dynamic / 5ms
(LN32A650)
50,000:1 dynamic / 4ms
(LN40A650, LN46A650, LN52A650)

50,000:1 dynamic / 4ms
(all sizes)

Audio

3-watts per channel
(LN19A650, LN22A650)
10-watts per channel
SRS TruSurround XT

™

(all other sizes)

10-watts per channel with built-in rear woofer
SRS TruSurround XT

™

A/V Connections

1 rear HDMI
(LN19A650, LN22A650)
4 HDMI-CEC (Anynet+) 3 rear, 1 side for multiple component control via a single remote
(all other sizes)
1 USB 2.0 (WiseLink) for MP3 / JPEG playback (LN32A650 and up)
2 component connections
(LN32A650 and up)
1 composite connection
1 S-Video connection
1 PC input
1 Headphone jack

4 HDMI-CEC (Anynet+) 3 rear, 1 side for multiple component control via a single remote
(all sizes)
1 USB 2.0 (WiseLink Pro) for MP3 / JPEG / MPEG4 / DiVX playback
2 component connections
1 composite connection
1 S-Video connection
1 PC input
1 Headphone jack

Estimated Selling Price

19.0-inch: $479.99
22.0-inch: $649.99
31.5-inch: $1,299.99
39.9-inch: $2,299.99
45.9-inch: $2,899.99
52.2-inch: $3,199.99

39.9-inch: $2,599.99
45.9-inch: $3,199.99
52.0-inch: $3,499.99

Availability
HDTV, lcds, Samsung