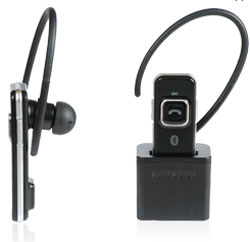 I've mentioned before that I have an issue with people I see walking around chatting away on a Bluetooth headset when the headset really isn't needed. In this day and age I don't think anyone is impressed that you have a Bluetooth headset.
In some states the only way you can talk on your phone while driving is by using a Bluetooth headset so there is definitely a place for them. To meet this need Samsung has announced one of the thinnest Bluetooth headsets available called the WEP350.
This little gizmo is only 5.9 mm thick and weighs a mere 7.1 grams. While it is thin and small, it has a talk time of 5 hours and up to 100 hours of standby time. To help extend the talk and standby time the headset has a carry case that doubles as a charger. You might expect something this small to be expensive, but the WEP350 retails for only $59.99.
Bluetooth headset, Samsung