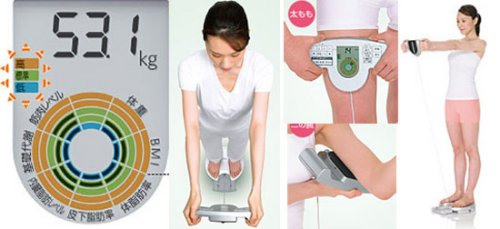 The Overall Health Balance Scale from Japan's National Electric takes fitness feedback to a new level. The device hasn't been released yet, and that may be due to the fact that it makes women look silly. Judging by the images, women have to pretend that they are piloting a plane while standing up. At the same time, it will help you avoid obesity, high blood pressure, high cholesterol, and diabetes.
It seemingly measures everything from weight and BMI, the amount of fat under your skin, organ fat, how muscular you are, and your metabolic rate. It takes all of the readings, then tells you how out of shape you are for your age on a scale of 1 to 5. If you want, put the sensor over your huge ass and see just how much junk is really in your trunk.

Basically, what we have here is TMI followed by you being told that you need work. A lot of work.
exercise, Health, Overall Balance Scale, weight