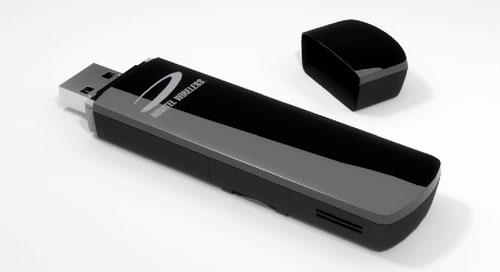 Just ask anyone who knows me; I can hardly stand to be without Internet access. If my connection goes down I begin to get cold chills at the thought of missing an email within five minutes. To stave off an Internet restricted diet in case of emergency I have my iPhone and laptop complete with EVDO modem to keep me from being offline.
I have often considered getting a USB EVDO modem for use with my desktop computer, but haven't bitten the bullet and done that yet. Novatel Wireless introduced a couple new USB modems today that look very tempting. The MC992D and MC990D are both wireless broadband modems that can operate on multiple frequencies including HSPA, WCDMA, EDGE and GPRS networks.
The difference between eh two modems is that while they are both global use modems, the 990D is optimized for HSPA networks in Europe, Middle East, Asia and Africa on 900 and 2100 MHZ bands. The 992D on the other hand is optimized for HSPA networks in North America at 850MHz and 1900 MHz bands. Both modems will be available in Q3 2008 at an undisclosed price.
HSPA USB modem, Novatel