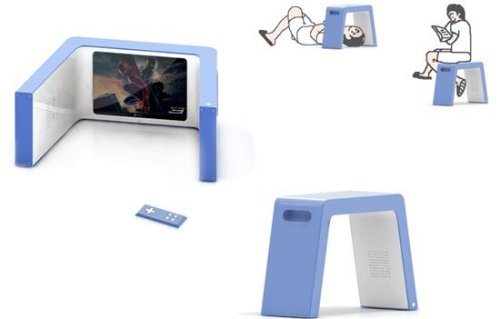 This device has slacker written all over it. I used to think that laying around watching TV was as lazy as it could get. I was wrong. This may be taking laziness and TV to a whole other level. Too lazy to even hold your head up on your shoulders and watch TV? This gadget has you covered if you can step away from your bong long enough to read this.
With NapTV you don't even have to sit upright just to look in the TV's direction. You can lay under the damn thing. All that's required of your sorry ass is to keep your eyes open. It was designed by Sung-kyu Nam, and it even serves as a chair if your apartment is completely devoid of furniture. When you tire of sitting on your butt, just slide under this thing again and tune out the world.

Wait, it get's even lazier. There's a remote included, despite the fact that this thing is in your face.
chair, lazy, naptv, Television, tv