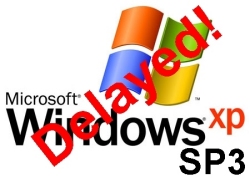 If you've been eagerly watching your Windows Update on XP waiting for SP3 to show up your wait is over; it's not coming, or at least not quite yet. At what seemed like a very last minute decision, Microsoft on Tuesday delayed the launch of Windows XP Service Pack 3 due to a compatibility glitch with Microsoft Dynamics Retail Management System software. The release was scheduled to be available through Windows Update on Tuesday and has already been released to manufacturing and volume customers last week.
"In the last few days, we have uncovered a compatibility issue between Microsoft Dynamics Retail Management System (RMS) and both Windows XP SP3 and Windows Vista Service Pack 1 (SP1)," said the firm."In order to make sure customers have the best possible experience, we have decided to delay releasing Windows XP Service Pack 3 (SP3) to the web."
The company did not say exactly how long the service pack would be delayed but they did say that they are working on placing "filters" into Windows Update to prevent systems running Dynamics RMS from receiving the update, both for XP and the SP1 for Windows Vista which also has been identified with the compatibility problem.
Microsoft is urging those running Dynamics to avoid the update until a fix is in place, and is encouraging everyone to wait until the service pack is available through Windows Update. But, if you just can't wait any longer there are some sites such as FileForum who got a hold of SP3 through their MSDN subscription and are offering it for download.
delayed, Microsoft, OS, Service Pack, Windows XP, XP SP3