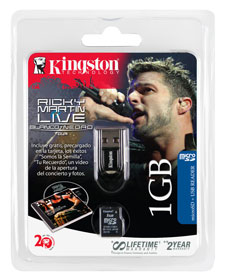 Kingston Technology is trying to connect with God knows which demographic by announcing today a microSD memory card preloaded with Ricky Martin material. You'll find the Kingston 1GB microSD card with an accompanying USB reader kit available for around $11.
Now we really don't have anything against Ricky Martin, but come on Kingston. This is a pretty lame promotion. If you must buy into it however you'll find the 1GB microSD card loaded with Martin items like the tracks "Somos la Semilla," "Tu Recuerdo," concert images and a music video that opened his "Black & White" world tour.
You also get a USB MicroSD card reader thrown into the mix. This kit obviously targets mobile phone owners – we think however will pass on making Martins our cell phone wallpaper. Available now.
cell phones, Kingston, memory cards, microSD, Mobile Phones