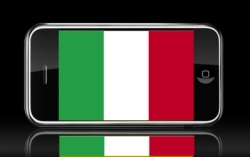 It's hard to say how they did it, but it appears that somehow Telecom Italia Mobile has convinced Apple and Steve Jobs to offer the new upcoming 3G version of the iPhone to customers in Italy with quite a bit more leeway than we've seen here in the states. Not only will the iPhone not require that two-year service contract along with the purchase, but it will also come unlocked.
This is something that Apple has been very stringent about stateside and has been volleying versions with hackers since the beginning, keeping the iPhone locked and with a single, exclusive carrier. What this means is that in Italy customers can just by the iPhone and use it with any carrier that they choose.
Telecom Italia Mobile will however have the exclusive rights to sell it for the first six months and it's expected to be a little pricier than iPhones in nearby European countries where a contract is required. We've seen some recent price drops for the iPhone but for the existing non-3G model. The price cuts are speculated to have been done to make room for a new 3G iPhone expected sometime later this year and possibly as soon as June in Italy.
via InformationWeek
Apple, iPhone, Italy, Telecom Italia Mobile, TIM, unlocked