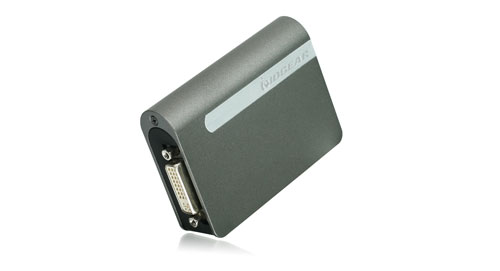 IOGear pumps out products like there is no tomorrow. They also assign them really funky model names, luckily tying those to titles we can actually understand. This newest product should be pretty clear therefore – the USB 2.0 External DVI Video Card, or model GUC2020DW6 if keeping track, priced at around $150.
The mission of the GUC2020DW6 is simple – deliver DVI video output to an additional computer display to spread workflow out. This external card does this via USB connectivity by connecting the video adapter and installing an included driver.
IOGear's external card is powered through the USB 2.0 connection and it supports resolutions upwards of UXGA 1600×1200 and 32-bit color. It is available now.
IoGear USB 2.0 External DVI Video Card (GUC2020DW6)
computer graphics, Graphics Cards, Iogear, Video Cards