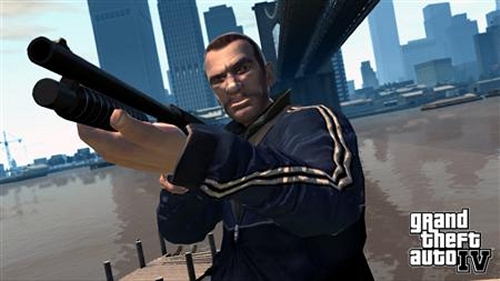 Grand Theft Auto IV went on sale worldwide today and many retailers such as Best Buy and GameStop opened their doors at midnight last night to meet fans across the country who created long lines to be one of the first to get their hands on a copy and spend the rest of the night playing. The GTA 4 launch from Take Two is expected to see sales that will rival that of last year's Halo 3 release, with numbers nearing $400 million for around 6 million copies sold around the world.
The Grand Theft Auto 4 game is available for both the Sony Playstation 3 and the XBox 360 which greatly broadens the audience. Some speculate that the launch delay from last October also allowed more people to have time to buy the latest generation of game console and built more anticipation for the launch. Take Two says the delay was due to technical hurdles that needed to be overcome.
GTA 4 casts the player as a European immigrant who gets mixed up with a crime group and can cause quite a bit of mayhem by running drugs, and shooting and beating up pedestrians and even cops. The game was given a "Mature" rating for gamers of 17 years old or older. The label warns of blood, intense violence, partial nudity, strong language, strong sexual content, use of alcohol, and use of drugs, which all add to the hype of the game for both fans and foes.
Grand Theft Auto IV
RockStarGames
FPS, Games, Grand Theft Auto IV, GTA IV, PS3, Take-Two, xbox 360