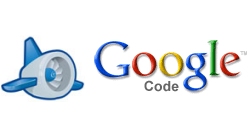 Google has announced the launch of App Engine, a new tool allowing developers to create web applications that can be hosted on a Google's own infrastructure. The idea of making a hosted development environment isn't necessarily new as Salesforce has had the Appexchange platform for some time now, along with a few others companies offering similar services. One of the major things that makes Google's App Engine stand out from the rest however is that it's free.
The App Engine platform is launching as a "preview release" with all the expected features of the service not quite complete yet. It's also going to be available only to the first 10,000 developers that sign up, which at the point of this writing appears to be already full. (You can get on a wait list, though).
The free preview service does have some limitations as well. It is limited to 500MB of storage through Google's Bigtable and GFS, 10GB of bandwidth per day and has a limit on CPU use per day as well. Google estimates that most applications would be able to get around 5 million pageviews per month with the free restrictions. The idea is that developers can build applications on the platform and host them for free until they become more successful and gain lots of visitors. At that point the platform allows for scaling into larger hosting, potentially for a price.
Google expects the preview release services to remain free of charge as it rolls out to more developers and they expand the features. The initial launch is limited to the first 10,000 but said that more would be added in soon.
API, App Engine, Google, hosting, Services