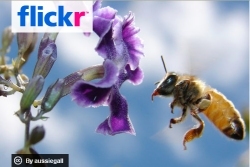 Flickr announced on Tuesday that it is has added video sharing to its popular photo-sharing online community. The new video sharing feature allows any pro members of the Flickr community to upload and share video clips with others using the same scope restrictions currently available for photo sharing.
The video clips can be taken with just about any device and can be up to 90 seconds in length or have a maximum size of 150MB. Even though only pro members can upload the video, all visitors will be able to view them depending on the share level given to the video. Flicker currently has about 42 million monthly visitors to the popular photo sharing site and hosts around 2 billion photos from around the world. Adding video content is a logical next step in further growing the sites popularity and may entice many people to upload videos with some sharing restrictions which might not have done with sites like YouTube where they are almost instantly public. The site will also have the ability to tag and geotag the videos and the ability to upload straight from a camera phone.
This new announcement is one of many recently from Yahoo who is currently dealing with a takeover threat from Microsoft. In response Yahoo seems to have kicked a lot of their projects into high gear in order to sway stockholders into feeling that Yahoo is still very viable on their own and avoid a sellout to Microsoft.
flickr, online services, video, video sharing, Yahoo