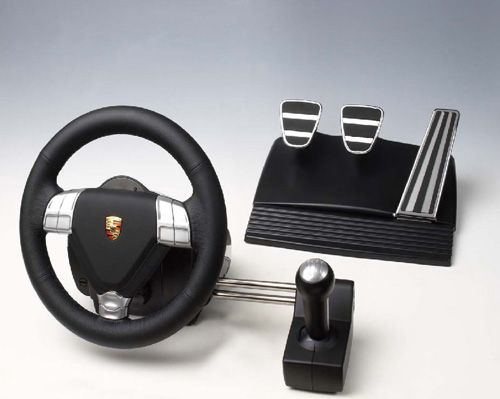 Fanatec, a developer of input devices for game consoles and PCs, unveiled today Porsche-inspired racing hardware for the PC and PlayStation 3 gaming platforms. It is called the Porsche 911 Turbo Racing Wheel and you'll find it pricing at around $350.
The Fanatec Porsche 911 Turbo Racing Wheel is licensed by Porsche and designed to work with racing games like Gran Turismo 5: Prologue and Racedriver: GRID. It makes use of wireless USB technology for the wheel and pedals. Key features of this product include three force feedback motors, a smooth belt drive, 6+1 speed H-pattern gear stick and a clutch pedal and brake with soft-stop for the pedals.
Fanatec has also made part of its Porsche 911 Turbo Racing Wheel options like automotive grade leather on the steering wheel, adjustable tuning, illuminated buttons which show different symbols whether you connect the wheel to the PlayStation or the PC and a 1GB USB flash drive in the shape of a Porsche key which is loaded with the drivers and manual. This gaming accessory will be available in May.
Fanatec Porsche 911 Turbo Racing Wheel
fanatec, game controllers, gaming accessories